Highlights

Post has published by
Dear time travellers, we are ready for the next step! In order to advance the project and ensure that people with the necessary talents to deliver high-quality software are available to us, we have decided to pay some freelance developers directly for their work. By offering payments to people who...
Post has published by
New Recruit-a-Friend system Tell your account ID to your friends! Type .raf in the game to get to know your account ID number for the Recruit-a-Friend feature. You can also see the number from the website. It is listed as "Personal Recruit Code" there. Give it to your friends so...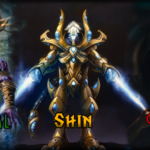 Post has published by
Dear players, About 3 weeks ago, we posted on #❕︱community-quests about our QnA with the admins, and - we delivered! The ChromieCraft admins have answered the majority of your questions. This covers raids, progression, inspiration for the project, time spent working on the server. But also favourite beer or whiskey...
Post has published by
A Goblin's Manipulation of Time and Space Community Funding Challenge A Shady Goblin Sorcerer has appeared outside Gadgetzan. While Chromie is busy keeping the threads of time in place, the Shady Goblin has proposed a Community Funding Challenge for his research about time and space. Pay up in Gold The...