Dear Time Travellers,
We are finally in a position to share with you some further news about the upcoming releases here on Chromiecraft.
Firstly, UBRS & LBRS. These will be released, subject to no unforeseen issues, on the 14th November 2021.
In terms of LBRS, 5 players will be able to enter this via the RDF. As mentioned previously, UBRS is being released as a 10 man raid. This means a maximum of ten adventurers will be able to enter to try to take down General Drakkisath. Before you can enter, however, one of those adventurers will need to have the Seal of Ascension. There will be no UBRS on the RDF either, walk-in's only here.
Upon entering UBRS, you will notice a debuff on the party. The residents of Blackrock are doing their best to boost their chances against you! They didnt learn any new skills or mechanics however so you should know what to do. Also, all but one of the raid bosses will have the same stats as per 3.3.5 / Wrath of the Lich King. General Drakkisath however has been working out whilst waiting for you! We believe in you all however and hope you will be successful in your encounter against them. Leeroy Jenkins indeed!
We do need to mention one thing. With the focus being on the upcoming raid brackets, we have had to make the difficult decision to disable Pilgrims Bounty. It does require attention and with the food buffs being much too powerful for Azeroth, we will need to wait for another year to cook up a feast.
Next, onto the release of the level 60 bracket. As explained here, we have heard taken on board the communities suggestions and brought forward the release of level 60. We can confirm that we will increase the level cap to 60 on 15th December.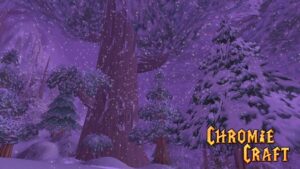 Image provided by Evayn#0769
With the Christmas period sorted, it's time to warm up (those in the northern hemisphere anyway) with a bit of Molten Core, taking the fight to Ragnaros.
Our aim is to release Molten Core in early January!
It has taken a monumental amount of work to get into the position we currently are in. As soon as we are in a position to do so, we will announce an exact date for the release of MC. We need to say a massive thank you to our incredible team of contributors who have been working around the clock to prepare these releases. We are always on the lookout for more hands to help, for more information you can check our Valsery's post searching for applicants on our Discord channel. Alternatively, you can read this post on how to become a contributor.
As always thank you for playing here on Chromiecraft, have a wonderful day.
PS:
Here are some last-minute news for UBRS:
– The UBRS door will be closed when queueing in the LFG tool. That goes for specific dungeons as well as random dungeons. It will not open at all in these modes.
– When manually walking into Blackrock Spire, all party members receive severe debuffs. The difficulty will be drastically increased for both LBRS and UBRS then.
– LBRS can be played without debuffs in all LFG-tool modes.
– The UBRS door will open only if a player has the Seal of Ascension ring in their inventory. And only in walk-in mode with debuffs. Not when playing LFG / RDF.
These worldbuffs will be removed whenever you enter LBRS/UBRS:
– Songflower Serenade
– Warchiefs Blessing
– Rallying Cry of the Dragonslayer
– Spirit of Zandalar
– Fengus' Ferocity
– Mol'dar's Moxie
– Slip'kik's Savvy
We plan to work on the updates between 7.00 and 11.00 UTC / server time. Our best guess is to release Blackrock Spire during the second half of that time frame. Of course, we will announce when the server goes back online on our discord.